Restaurants, Cafés & Bars
An exploding food & drink scene in a city that isn't trying to be London…
Evolving Sheffield's Food & Drink Scene
Heart of the City will enhance Sheffield's constantly evolving food & drink scene, making it the ideal place to put down roots, grow a business or move into new surroundings.
Creating more venues for eating, drinking & socialising with an independent vibe, from emerging independents & beloved local institutions to recognised names.
Café culture continues to thrive. Local independent Marmadukes café has found a new home in Grosvenor House on Cambridge Street, a modern companion to their homely & quirky original Norfolk Street café.
Street food is big in Sheffield with numerous outlets, collective venues & regular events that combine pop up artisan food, with music & art.
£1 million across 3 days
AT SHEFFIELD FOOD FESTIVAL (2018)
Bringing over 50,000 people to the city over 3 days at the end of May, showcasing the best traders, restaurants, bars, pubs, pop-ups & local produce suppliers in the city & surrounding regions.
Sheffield Facts & FIGURES
Interesting facts about Sheffield's Drink & Food Scene
Sheffield has seen its selection of popular independent restaurants continue to flourish, all of which have a fierce independent spirit which helps them to thrive in a constantly shifting city.
Capturing 'local flavour' through locally grown & reared ingredients isn't hard in a city surrounded by such an abundant & rich & fertile landscape.
David Levesley of GQ said:
'Yorkshire's industrial city is a friendly, delicious metropolis full of great shops & incredible food.'
Established 1885
Over 130 years of Henderson's Relish
Created in Broad Lane by Henry Henderson & the local icon can count Sean Bean, Marco Pierre White & the Arctic Monkeys among its celebrity fans.
28 seats
In SHEFFIELD'S Smallest bar: PUblic
Formerly a men's lavatory in the centre of Sheffield, now one of Sheffield's coolest bars, collecting the Guardian's OFM Award: Best Place to Drink in 2018.
Sheffield Facts & FIGURES
5 times more breweries
per capita than Greater London
Which equals one brewery for every 23,991 people within the population of Sheffield.
23 breweries within the city
& 57 breweries in the Sheffield City Region
Makes Sheffield one of the premier beer cities not just in the UK, but across the globe.
2 famous exports
steel & beer (Steelwork is thirsty work!)
A number of pubs dating back to the area's mid-19th-century industrial peak still stand & Kelham Island's real ale trail will show you the best.
400 different beers
on any given day across the city
Sheffield's brewers release more than 1,000 different beers every year & claims this coveted title as the birthplace of the craft beer revolution.
Sheffield Facts & FIGURES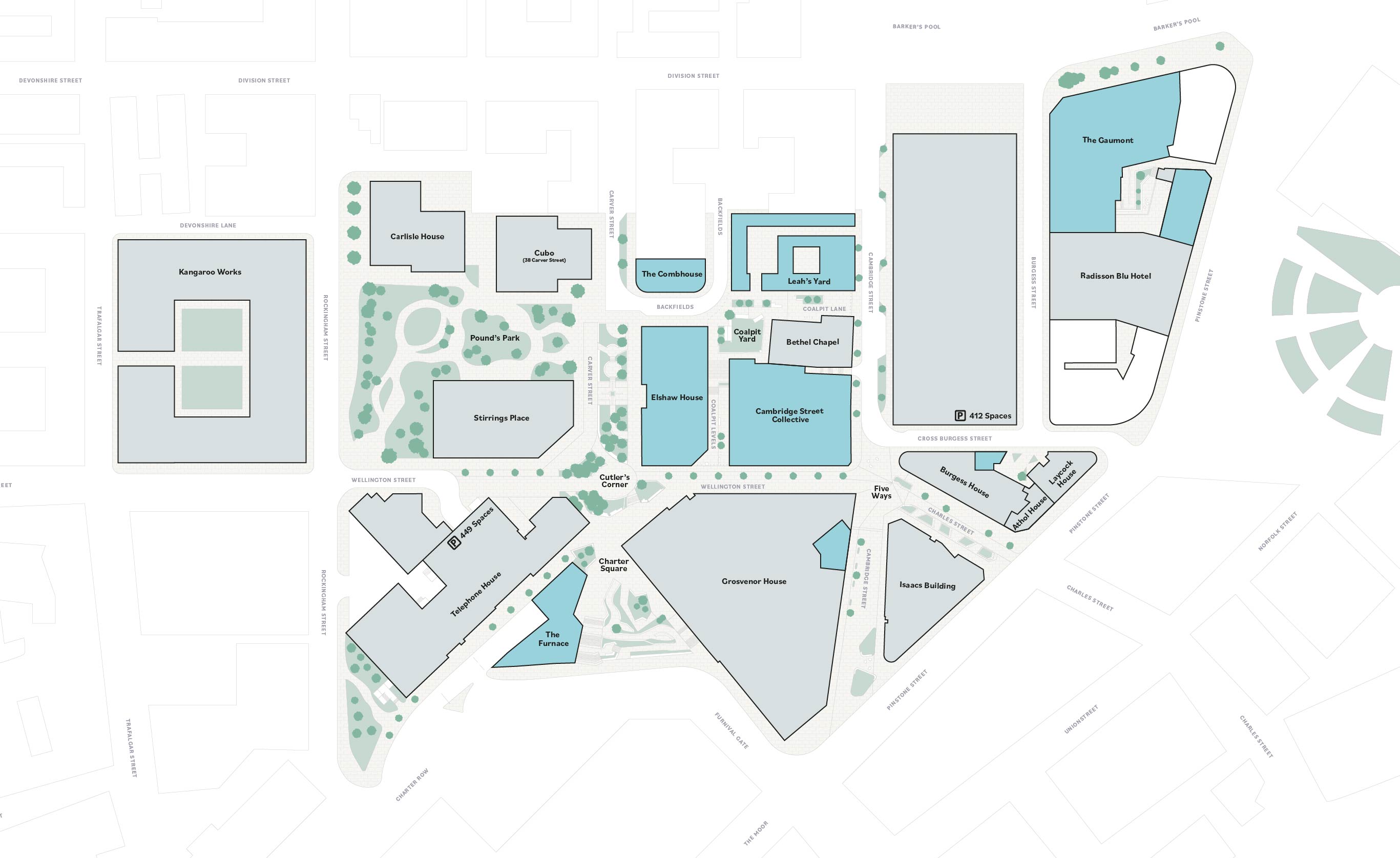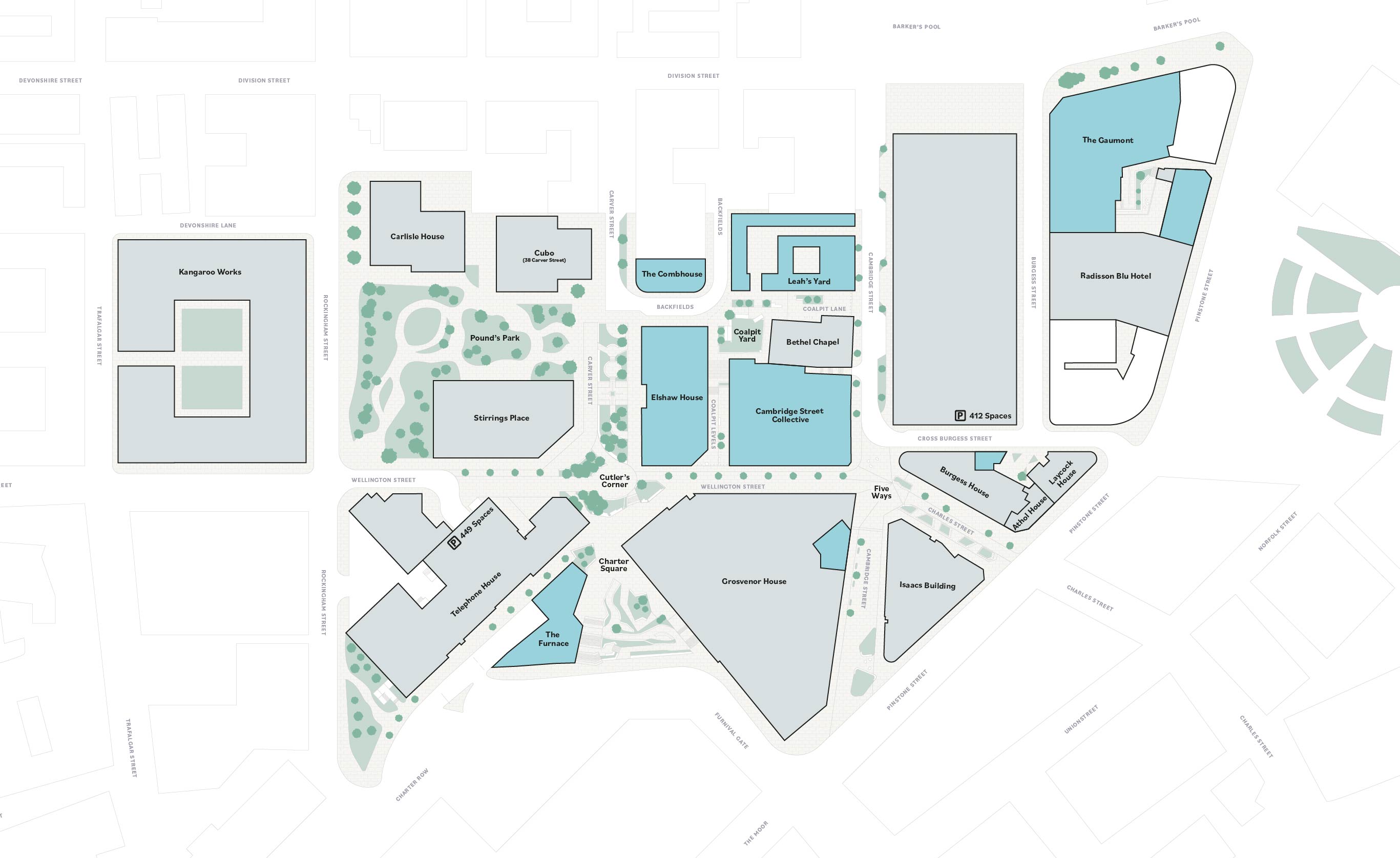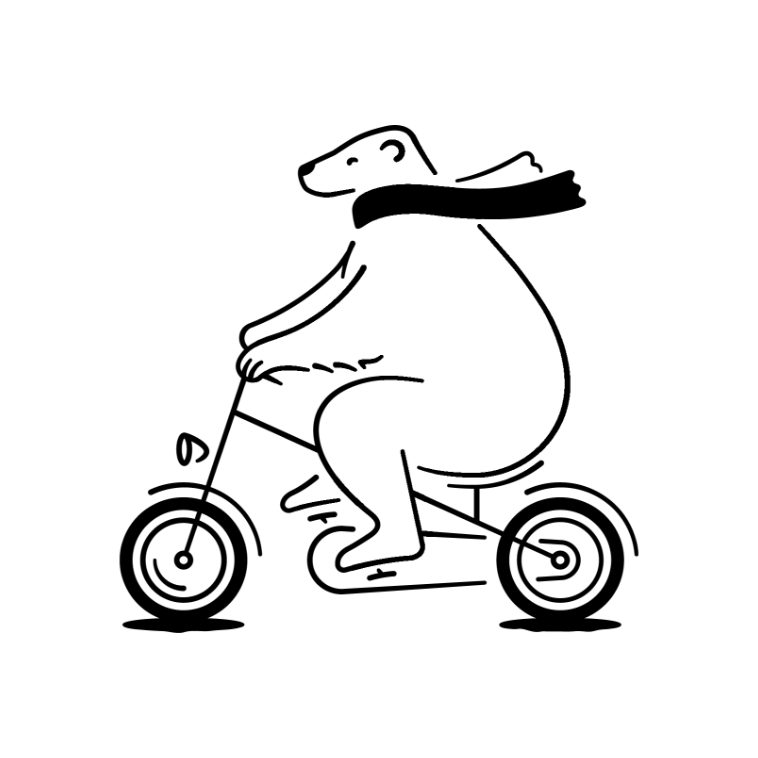 We are proud to call Sheffield our home and are excited to be playing
a part in the Heart of the City regeneration scheme. It is a major development that will significantly transform this district of the city centre. Our aim is to offer city centre visitors and weekday workers the best in British daytime food and drink.
Tim Nye, Owner of Marmadukes Café
Current Available Restaurant, Café & Bar Units
Athol House (B)
487 sqft F&B Unit
Complete and open
On the site of the historic Athol Hotel, we're combining retained façades & stunning new build to create a statement building.
Creating 4 townhouses, 52 apartments, 3,000 sqft of office space.
Restaurant, Café & Bar Units in Future Phases
Leah's Yard (H1)
F&B Units up to c.5,000 sqft
Available Spring 2023
Grade II listed Leah's Yard houses a collection of small former industrial workshops with a fascinating history.
Leah's Yard is currently undergoing a complete renovation to breathe life back into the beautiful set of buildings. Creating a destination for independent retail & immersive experience showcasing the finest traders, makers & creators from around our City.
F&B at Elshaw House (H2)
F&B Units from 460 sqft – c.5,000 sqft
Late 2023
6 new retail or F&B units located on the ground floor of 72,000 sqft Grade A offices at the heart of Heart of the City.
To serve both the 700 staff (approx.) above & those in & around the cultural heart of the development. Situated between Carver Street, Wellington Street & Backfields.
Contact the agents
for more information
Cambridge Street &
Wellington Street (H3)
F&B Units from 850 sqft – 6,370 sqft
Late 2023
A variety of individual units suitable for retail & F&B throughout this large industrial style space.
Cambridge Street Collective incorporates the historic character of the Bethel Sunday School, the former Brewhouse & Henry's. Along with studios & leisure, this will form the cultural melting pot at the heart of the Heart of the City.
Contact the agents
for more information
22 Pinstone Street (A)
3,208 sqft F&B Unit
Spring 2024
A prominent ground floor F&B unit located on Pinstone Street overlooking the Peace Gardens.
This unit is situated directly to the right of the entrance to the new 154 bed Radisson Blu Hotel with its retained grand Victorian façade.
Contact the agents
for more information
Gaumont F&B,
Barker's Pool (A)
F&B Units from 1,087 sqft – c.14,000 sqft
Winter 2023
New retail & F&B units will be situated within the former Gaumont Building on Barker's Pool & opposite Sheffield's historic City Hall.
The building will be returned to its former glory, shedding its current red framed structure to be more complementary to its surroundings. Plans for this part of the development are currently underway.
Contact the agents for
more information
Get in touch with the restaurants, cafés & bars leasing team: