Workspace & Offices in Sheffield
We're creating a new central district to bring a mix of workspace, from Grade A offices to studios, for the innovative & inventive, in the Heart of the City.
Grosvenor House Development
Grosvenor House, the first phase of the development, is already home to HSBC UK. The financial institution took the opportunity to consolidate its Sheffield office portfolio into 144,000 sqft, open, high specification workspace, designed with collaboration in mind. Additionally, CMS, the top 10 law firm, have recently moved into the remaining 47,500 sqft of space.
The two businesses bring 2,500 employees to the Heart of the City workplace community – a city centre that's already home to Westfield Health, The Home Office, Irwin Mitchell & Sky – and on the outskirts, McLaren, Boeing, Rolls Royce & The University of Sheffield Advanced Manufacturing Research Centre (AMRC - a network of world-leading research & innovation centres working with manufacturing companies around the globe).
14.3% increase
in Sheffield businesses in the last 5 years
The city's highly skilled workforce is growing younger whilst increasing in both size & expertise, drawing investment from inside & outside the city.
Sheffield Facts & FIGURES
Sustainable & Flexible Workspace
Providing flexible, sustainable workspace is key for a changing world & a city that's inventive & agile. Sheffield has come a long way since its reliance on steel.
It's a city in which the service, tech, education, digital, engineering & creative sectors all have leading & recognised organisations based. The talent pool for all of these sectors is made richer by the yearly addition of grads & post grads from the city's two universities. Alongside a competitive cost of living, Sheffield is an attractive location for both employer & employee.
10 years
of investor confidence
Has seen Sheffield develop dramatically. Investors continue to demonstrate confidence in the city, evidenced by the evolving skyline & business base.
18,000+ employees
in the public sector across Sheffield
The city's highly skilled workforce is growing younger whilst increasing in both size & expertise. It's a regional capital at the centre of an ambitious northern economy.
Sheffield Facts & FIGURES
Pound's Park
Heart of the City isn't just for your office, it's for your team – a place in which they can flourish, achieve and excel together.
We are developing Pound's Park, a new urban park for Sheffield, creating green and open spaces to enhance wellbeing, to meet the needs & expectations of city life.
Surrounded by a mix of green public spaces, squares, courtyards & green roofs, the development will deliver places to gather & take time for yourself. The Heart of the City delivers a true work lifestyle balance.
£26,141
average salary of PEOPLE in sheffield
Combined with a 9.5% increase in the average salary over the past 5 years, making Sheffield an ideal location to work.
73.6% employment rate
across the city
35.2% of the population educated to degree level with 93% of graduates are employed within 6 months of graduation.
Sheffield Facts & FIGURES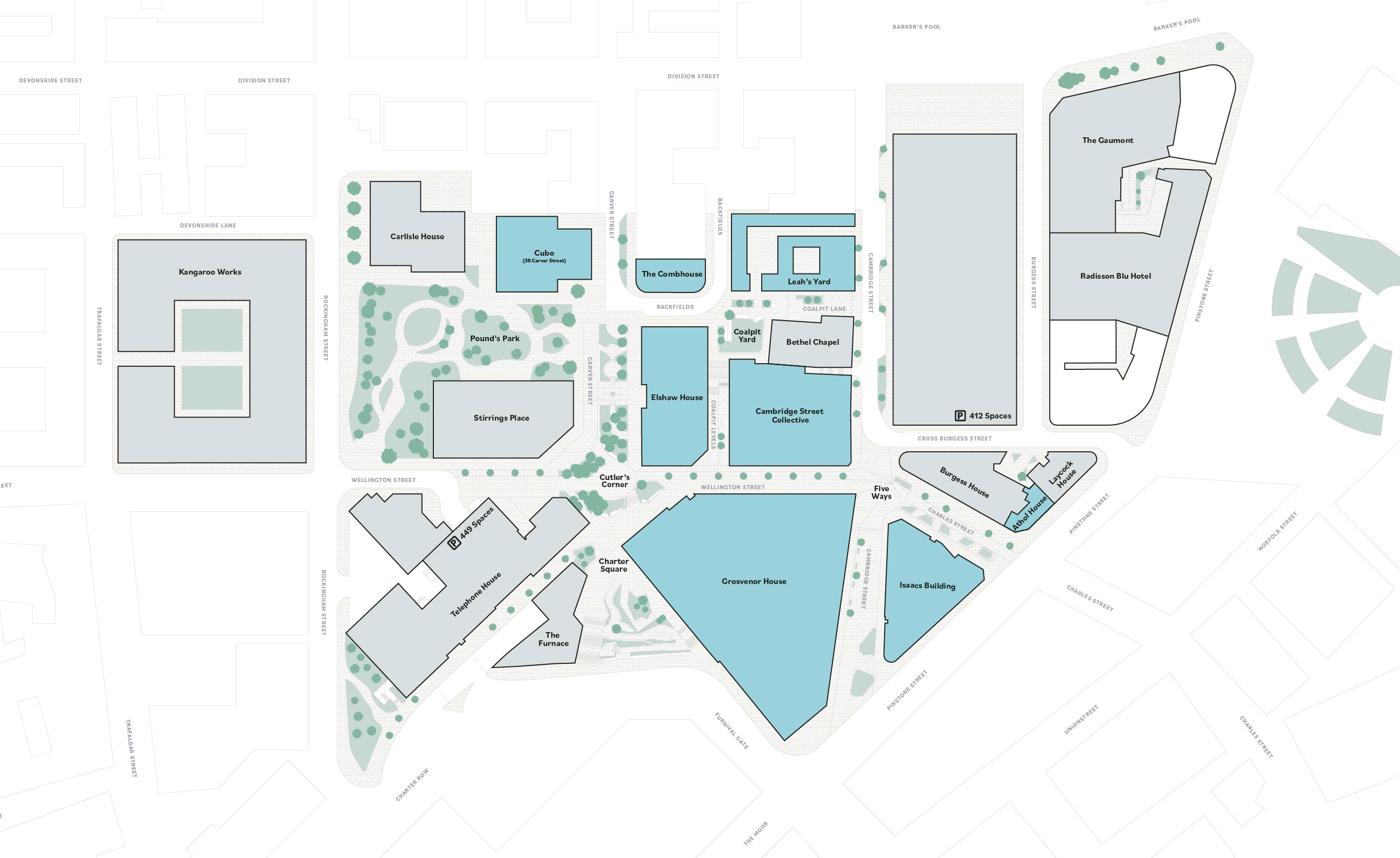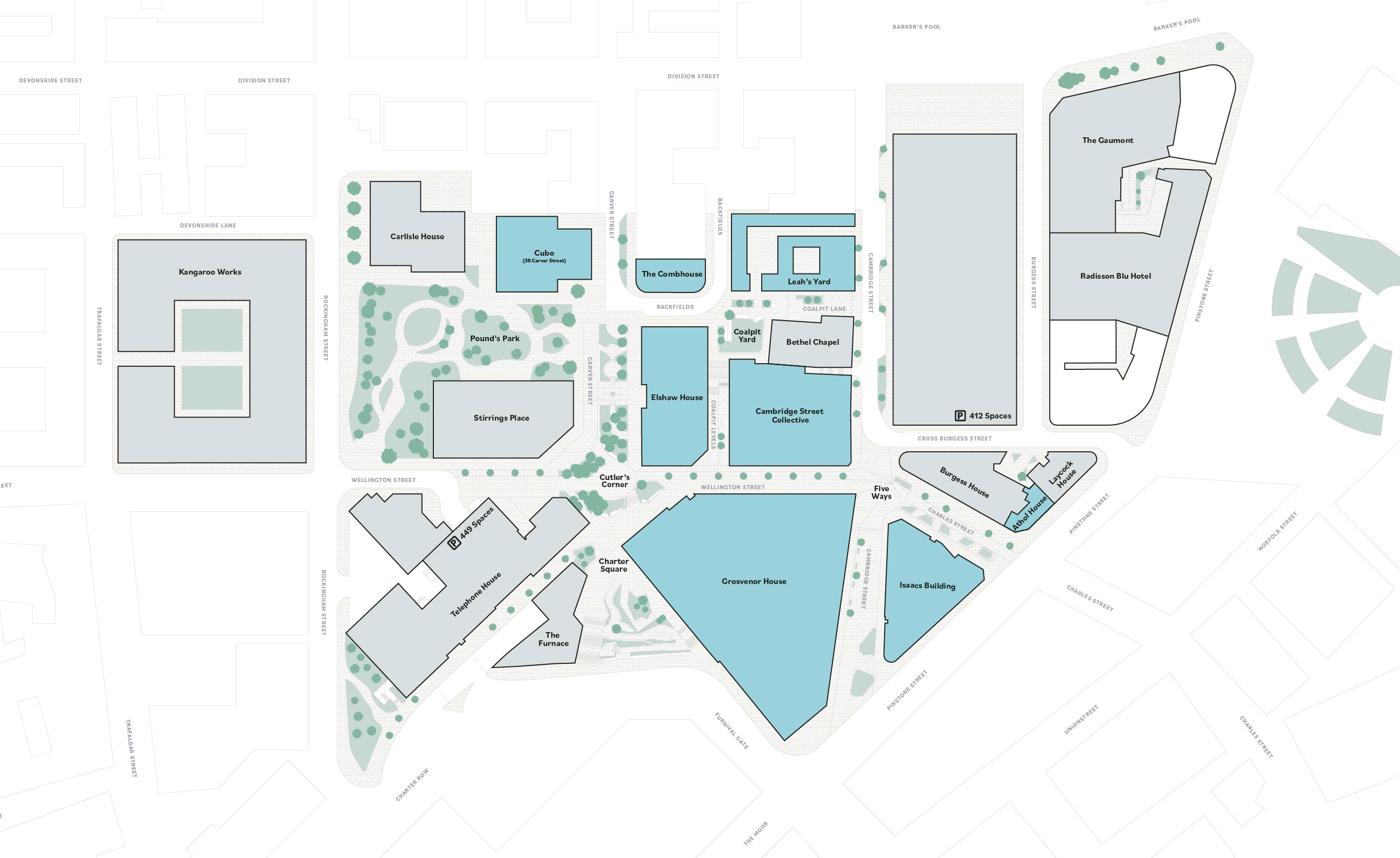 We are delighted to reaffirm our commitment to Sheffield - and the North of England generally - in the most tangible way possible, by taking a new home for our people in the City for the next
20 years, with space to grow.
Mark Haywood, Head of the North at CMS
Current Available Workspace
Isaacs Building (C)
39,000 sqft Workspace
Complete
This historic building is being completely reimagined for the 21st century, providing contemporary workspace across the upper floors.
The ground floor offers 5 prominently positioned retail units behind the attractively restored Victorian façade on Pinstone Street.
Athol House (B)
3,000 sqft Workspace
Complete and open
On the site of the historic Athol Hotel, we're combining retained façades & stunning new build to create a statement building, delivering premium retail units along Pinstone Street.
Creating 4 townhouses, 52 apartments, 3,000 sqft of office space & up to 8 retail units.
Contact the agents
for more information
Workspace in Future Phases
Elshaw House (H2)
72,000 sqft Workspace
Late 2023
Low carbon Grade A offices at the heart of the development split across seven floors & an impressive south facing roof terrace offering unique views of the city.
At the cultural heart of the development, Elshaw House is situated between Carver Street, Wellington Street & Backfields.
6 new retail or F&B units are located on the ground floor to support the workforce above & surrounding area.
Find out more about
Elshaw House
Contact the agents
for more information
Cambridge Street &
Wellington Street (H3)
Workspaces from 850 sqft – 6,370 sqft
Late 2023
A variety of individual units throughout this large industrial style space, suitable for retail, F&B, leisure or studio space for makers.
Cambridge Street Collective incorporates the historic character of the Bethel Sunday School, the former Brewhouse & Henry's & will be the cultural melting pot at the heart of Heart of the City.
Leah's Yard (H1)
Workspaces up to c.5,000 sqft
Summer 2024
Grade II listed Leah's Yard houses a collection of small former industrial workshops with a fascinating history.
Leah's Yard is currently undergoing a complete renovation to breathe life back into the beautiful set of buildings. Creating a destination for independent retail & immersive experience showcasing the finest traders, makers & creators from around our City.
Get in touch with the workspace leasing team: