Retail Spaces in Sheffield
We want to elevate the customers experience by bringing an aspirational mix of brands as well as the best local & regional independents.
Transforming Retail in Sheffield
Our retail offer will enliven the city's streetscape with new & repurposed buildings lining wide & open streets alongside open public spaces, including a new urban park for the city, throughout the Heart of the City.
The concentration of retail within the development will enhance the existing city centre retail circulation; linking together The Moor & Fargate by focusing on Pinstone Street, Charles Street, Wellington Street, Cambridge Street & Barkers Pool.
Our considered retail-mix is designed to make shopping here a personal & connected experience. Monki & Weekday have already opened in Grosvenor House (the first phase) in 2019, reflecting our ambition to set new standards for our city centre. Both new to Sheffield & its Weekday's first store outside London. Each retailer has continued to attract & retain a loyal following of younger affluent shoppers.
261,000
affluent customers
The local demographic is above the national average for; Lavish Lifestyles, Executive Wealth, Steady Neighbourhoods, Mature Money, Starting Out & Student life.
Sheffield Facts & FIGURES
Pinstone Street Shops
The Pinstone Street shops will be some of the most prominent in the city, creating a destination for upper mid-market retailers, a sector that is yet to achieve its full potential in the city.
We have the opportunity to realise the potential for Pinstone Street as the city centre's 'must-have' retail address, where premium brands & independents create complimentary adjacencies, offering the variety & diversity to attract footfall & sustain spend.


15 million
Footfall on pinstone street in 2019
But Sheffield is under provided in key retail product categories such as fashion, health & beauty in comparison to the benchmark cities.
2 million
SHEFFIELD CITY REGION CATCHMENT
The metropolitan population of Sheffield is currently 1,569,000 people & set to grow to over 2 million in the next 5 years.
Sheffield Facts & FIGURES
563,000
People live in Sheffield
The fourth largest city in the UK and will quickly become the focal point for over two million consumers in 2025.
23,400
People in the city centre
With an average salary of £26,141 & a 9.5% increase in the average salary over the past 5 years.
63,000
Students IN THE CITY
These influencers drive fashion trends through both purchasing habits and social media use – can be accessed by opening a store in the city centre.
10,000
International students
6,000 of these are affluent Chinese. Generating visits from their families which benefit Sheffield's hospitality & cultural offer.
Sheffield Facts & FIGURES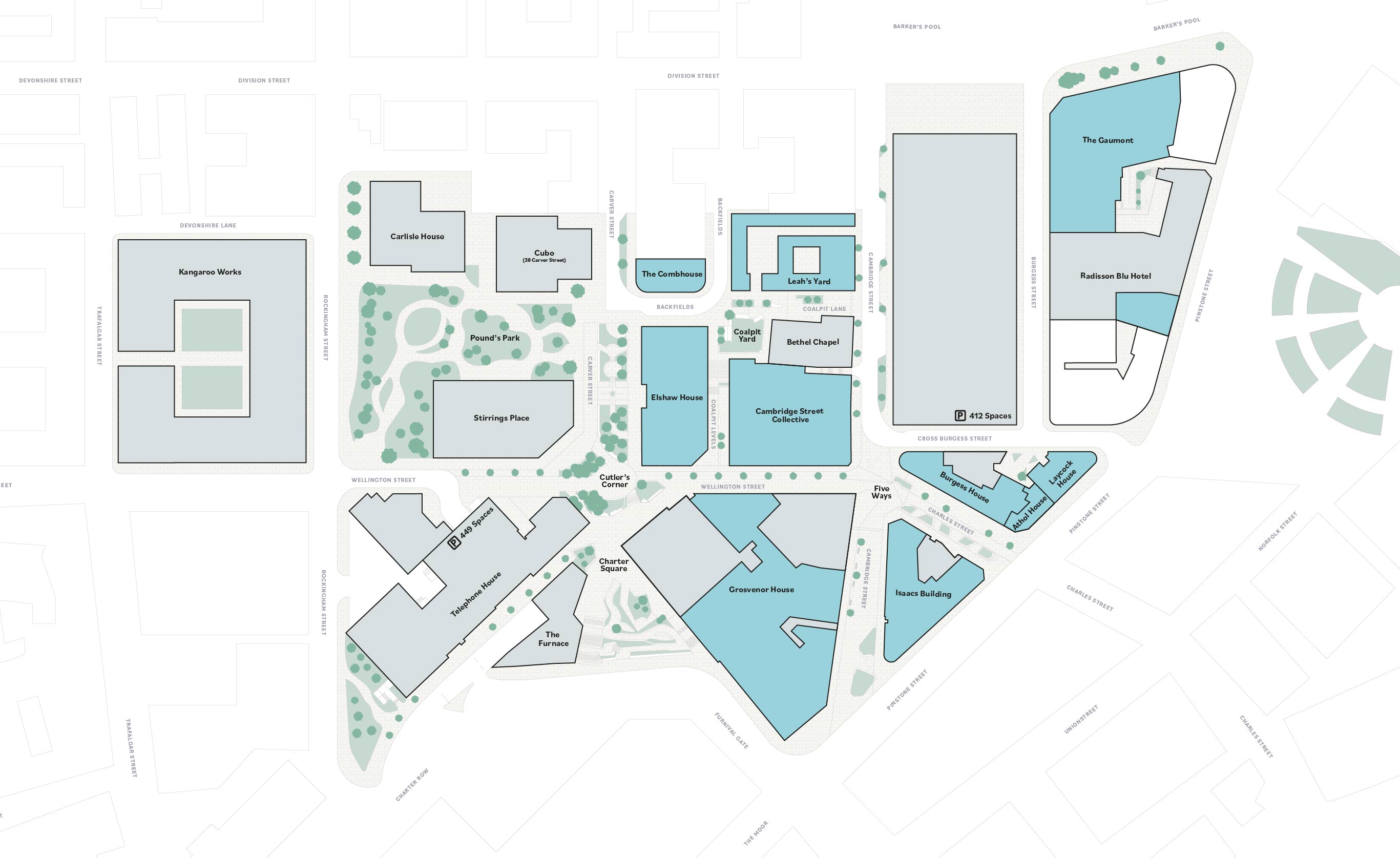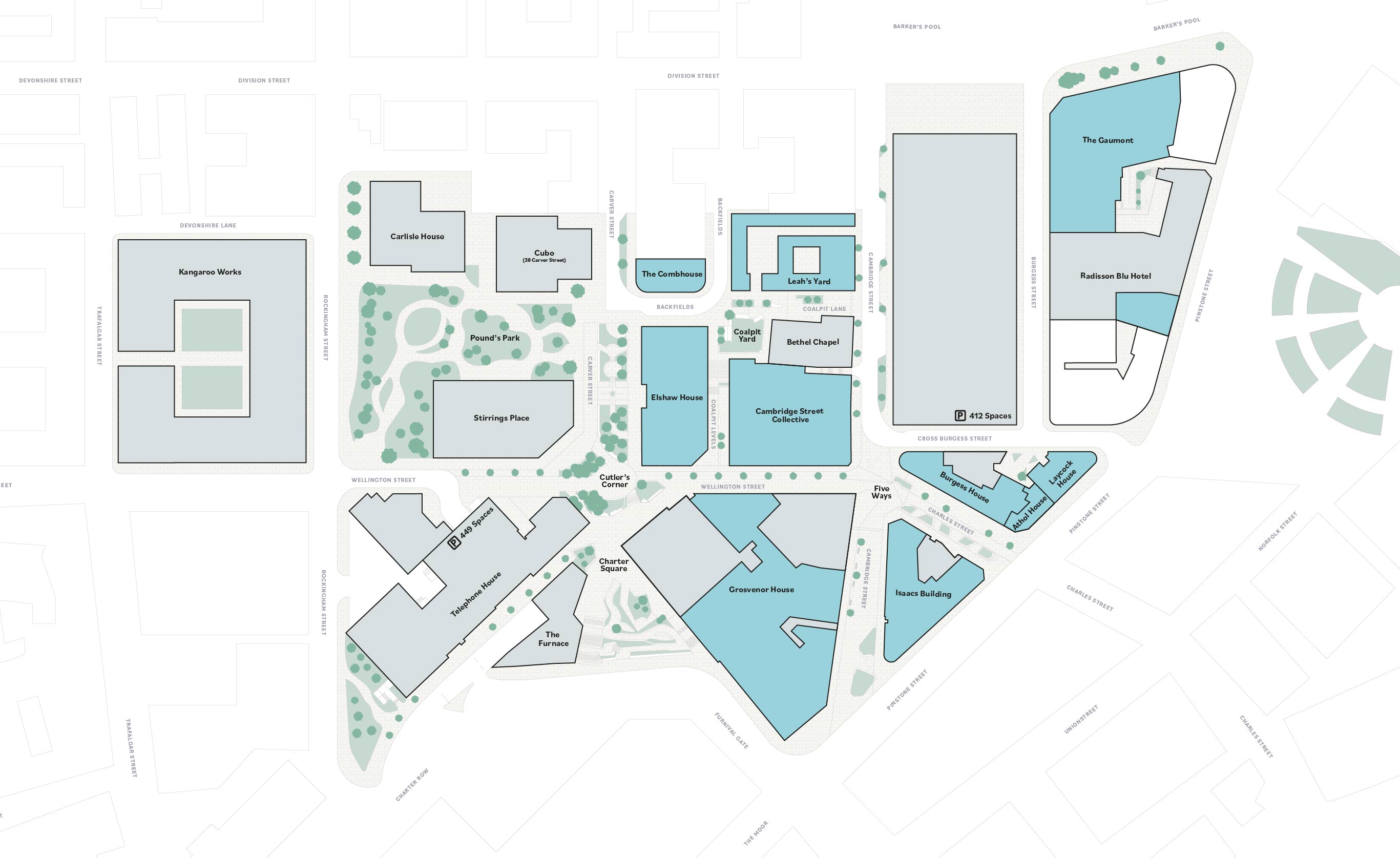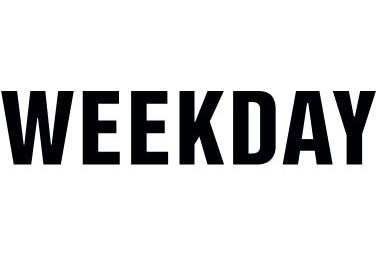 During the last year, we have had great success in Sheffield, Weekday has really become part of a great community. Now we look forward to meeting an even larger audience with the exciting new transformation.
Daniel Herrmann, Managing Director of Weekday
Current Available Retail Units
Grosvenor House (D)
Retail Units from 538 sqft to 5,707 sqft
Complete and open
3 units remaining
Already home to H&M portfolio brands Monki & Weekday, Grosvenor House is at centre of the Heart of the City.
HSBC & CMS occupy the upper floors of this statement building employing 2,500 people between them. Grosvenor House has shop frontages primarily located on Cambridge Street & in the prime footfall location where Pinstone Street meets Furnival Gate.
Contact the agents
for more information
Athol House (B)
Retail Units from 197 sqft to 1,998 sqft
Complete and open
On the site of the historic Athol Hotel, we're combining retained façades & stunning new build to create a statement building, delivering premium retail units along Pinstone Street.
Creating 4 townhouses, 52 apartments, 3,000 sq ft of office space & up to 8 retail units.
Issacs Building (C)
Retail Units from 958 sqft – 1,764 sqft
Complete
The ground floor offers 5 prominently positioned retail units behind the attractively restored Victorian façade on Pinstone Street.
This historic building is being completely reimagined for the 21st century, providing 39,000 sq ft of contemporary workspace for over 350 staff.
Retail Units in Future Phases
Leah's Yard (H1)
Retail Units up to c.5,000 sqft
Summer 2024
Grade II listed Leah's Yard houses a collection of small former industrial workshops with a fascinating history.
Leah's Yard is currently undergoing a complete renovation to breathe life back into the beautiful set of buildings. Creating a destination for independent retail & immersive experience showcasing the finest traders, makers & creators from around our City
Retail at Elshaw House (H2)
Retail Units from 460 sqft – c.5,000 sqft
Late 2023
6 new retail or F&B units located on the ground floor of 72,000 sqft Grade A offices at the heart of Heart of the City.
To serve both the 700 staff (approx.) above & those in & around the cultural heart of the development. Situated between Carver Street, Wellington Street & Backfields.
Contact the agents
for more information
Cambridge Street &
Wellington Street (H3)
Retail Units from 850 sqft – 6,370 sqft
Late 2023
A variety of individual units suitable for retail & F&B throughout this large industrial style space.
Cambridge Street Collective incorporates the historic character of the Bethel Sunday School, the former Brewhouse & Henry's. Along with studios & leisure, this will form the cultural melting pot at the heart of the Heart of the City.
Contact the agents
for more information
40 Pinstone Street (A)
2,939 sqft Retail Unit
Spring 2024
A prominent ground floor retail unit located on Pinstone Street overlooking the Peace Gardens.
This unit is situated directly to the left of the entrance to the new 154 bed Radisson Blu Hotel with its retained grand Victorian façade.
Contact the agents
for more information
Gaumont Retail,
Barker's Pool (A)
Retail Units from 1,087sqft – c.14,000 sqft
Winter 2023
New retail & F&B units will be situated within the former Gaumont Building on Barker's Pool & opposite Sheffield's historic City Hall.
The building will be returned to its former glory, shedding its current red framed structure to be more complementary to its surroundings. Plans for this part of the development are currently underway.
Contact the agents
for more information
Get in touch with the retail leasing team: