Leisure & Culture in Sheffield
Sheffield's leisure & cultural offer has an international reputation. It's where the great outdoors meets the great indoors…
Our Leisure & Cultural Offer
Heart of the City will add to the existing leisure & cultural offer, creating new space for competitive socialising & over night stay experiences. Radisson Blu's 154 room hotel overlooking the Peace Gardens has joined the line up and an additional hotel opportunity will be potentially included in future phases to bring the total amount of rooms up to 250.
Cambridge Street Collective, Bethel Chapel & Leah's Yard (Block H) will form the cultural heart of the development - a series of connected buildings & spaces, encouraging social interaction, creativity & artistic expression. There will be space for studios, galleries & exhibitions, food & drink, concerts & live performance. Heart of the City will help Sheffield realise its 24 hour economy.
We are developing Pound's Park, a new urban park for Sheffield, creating green and open spaces to enhance wellbeing, to meet the needs & expectations of city life.
2 million people
SHEFFIELD CITY REGION CATCHMENT
The metropolitan population of Sheffield is currently 1,569,000 people & set to grow to over 2 million in the next 5 years.
Sheffield Facts & FIGURES
Outdoor Activities in Sheffield
The outdoors… well it is the outdoor city, the Peak District is on your doorstep for walking, fell running, climbing, mountain biking & an array of pursuits.
It's a sports city with national training centres & facilities, as well as an Olympic legacy venue (the only city to achieve this without hosting the games)
Sheffield is the home of football. Other than the high flying Blades & for balance, the mighty Wednesday, the city is also home to the oldest football club (Sheffield F.C) & the rules of the beautiful game.
However, not all sports are an outdoor pursuit – the Snooker World Championships at The Crucible in Tudor Square (a 5 minute walk from Heart of the City) bring millions of pounds of revenue to the city every year, along with a global audience of over 285 million.
A 15 minute drive
To the peak District National park
A short drive or a good walk from the city centre, a third of the city sits within the Peak District National Park, which makes Sheffield one of England's greenest cities.
Sheffield Facts & FIGURES
Arts & Music in Sheffield
But it's not all about sports and being competitive. Sheffield's cultural offer & reputation is a serious contender on the UK stage.
The Crucible, the Lyceum & The Playhouse make up Sheffield Theatres, the largest producing theatre complex outside of London, attracting over 350,000 people to the city centre every year.
Our cultural reputation is further enhanced by our International documentary & literary festivals - Doc Fest & Off the Shelf - & we still haven't mentioned the music scene, museums, botanical gardens, art galleries, cinemas & maker studios – all of which make Sheffield an active & creative city.
465 / 65 / 69 / 24
Music In numbers in sheffield
465 bands & artists, 65 recording studios, 69 venues that host live music & home to 24 recording labels.
4 cinemas with 26 screens
Big screens with big variety
In the Light Cinema on the Moor, Odeon Luxe just off of Tudor Square, Curzon on George Street & The Showroom Cinema on Paternoster Row.
Sheffield Facts & FIGURES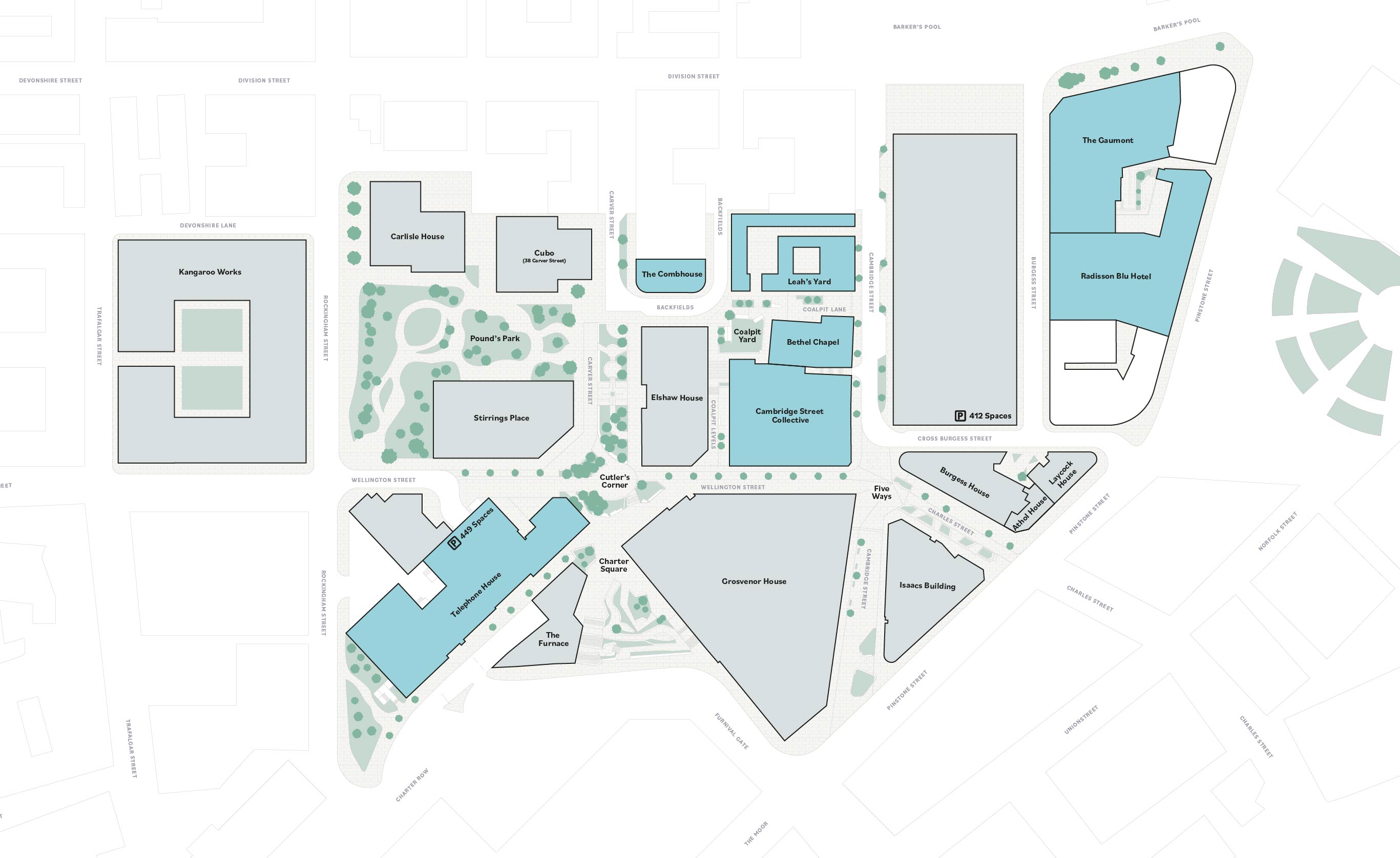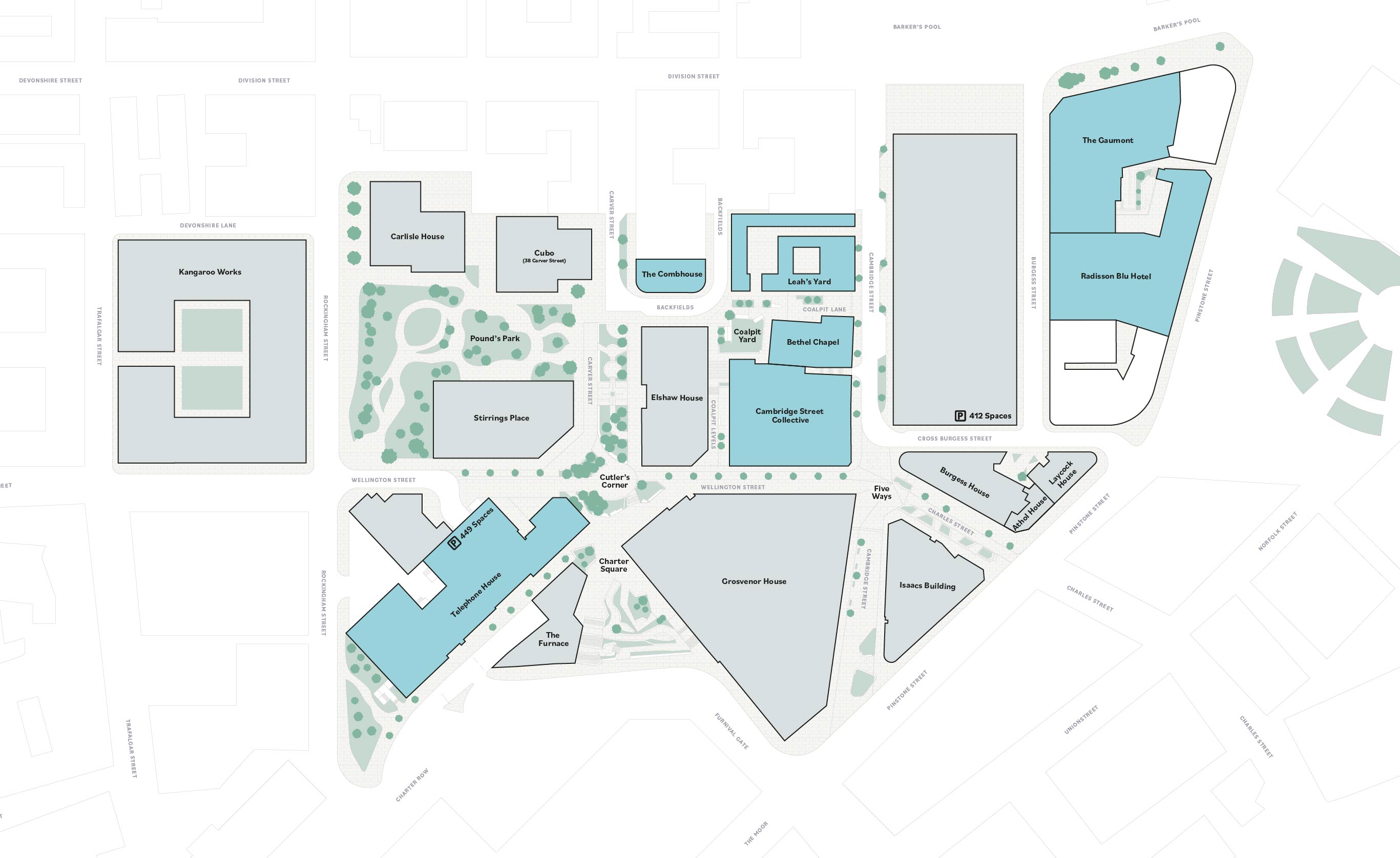 If you have an idea, a dream, a goal in this city, and you approach it with honesty and a real desire to
do something good or interesting, this city will always have your back. That's the beauty of Sheffield.
Vanhessa Longley, Co-founder of Girl Gang Sheffield
Leisure & Culture Units in Future Phases
Leah's Yard (H1)
11,000 sqft of Grade II* Listed space
Summer 2024
The collection of former industrial workshops, will have structural and roofing works carried out to renew & repurpose the building.
Leah's Yard is currently undergoing a complete renovation to breathe life back into the beautiful set of buildings. Creating a destination for independent retail & immersive experience showcasing the finest traders, makers & creators from around our City.
Cambridge Street
Collective (H3)
20,000 sqft of industrial-style space
Late 2023
The Milestone Group, the company behind some of Sheffield's favourite food venues, has been chosen to run Cambridge Street Collective, a culturally diverse food destination. The collective will feature a contemporary food hall, cookery school & fine dining experience.
The highly anticipated restaurant will occupy the venue's top floor & boast a rooftop pre-dining bar & dining terrace – created by celebrated Chef Luke French & wife & business partner, Stacey Sherwood-French, the pair behind, amongst others, the award-winning Krynkl restaurant, JÖRO.
Find out more about
Cambridge Street Collective
View Article
Bethel Chapel (H3)
15,000 sqft live entertainment venue
Early 2024
Bethel Chapel interlinks with Cambridge Street Collective, creating a venue to hold events & other cultural/social offerings.
The chosen operator will be responsible for curating the above events & activities.
Gaumont Lower Ground
Barker's Pool (A)
Up to 9,000 sqft of
Leisure/Cultural space
Winter 2023
The building will be returned to its former glory, shedding its current red framed structure to be more complementary to its surroundings.
Plans for this part of the development are currently underway.
Contact the agents for
more information
Gaumont Upper Floors
Barker's Pool (A)
26,000+ sqft of
Leisure/Cultural space
Winter 2023
The building will be returned to its former glory, shedding its current red framed structure to be more complementary to its surroundings.
Plans for this part of the development are currently underway.
Contact the agents for
more information
Telephone House (E)
27,000+ sqft of
Leisure /Cultural space
Complete and open
2 units remaining
Transforming the former British Telecom tower into an iconic centrepiece for the city.
Part of the Sheffield skyline, the current NCP carpark building is set to be entirely re-imagined, completing the redevelopment of Charter Square.
The tower element was extensively refurbished in 2016 to provide upmarket student residences by Vita Students.
Contact the agents for
more information
Get in touch with the leisure & culture leasing team: