Acclaimed local food operator announced for Cambridge Street Collective
A stunning industrial-style space where Sheffield's best flavours all come together under one roof has moved a step closer.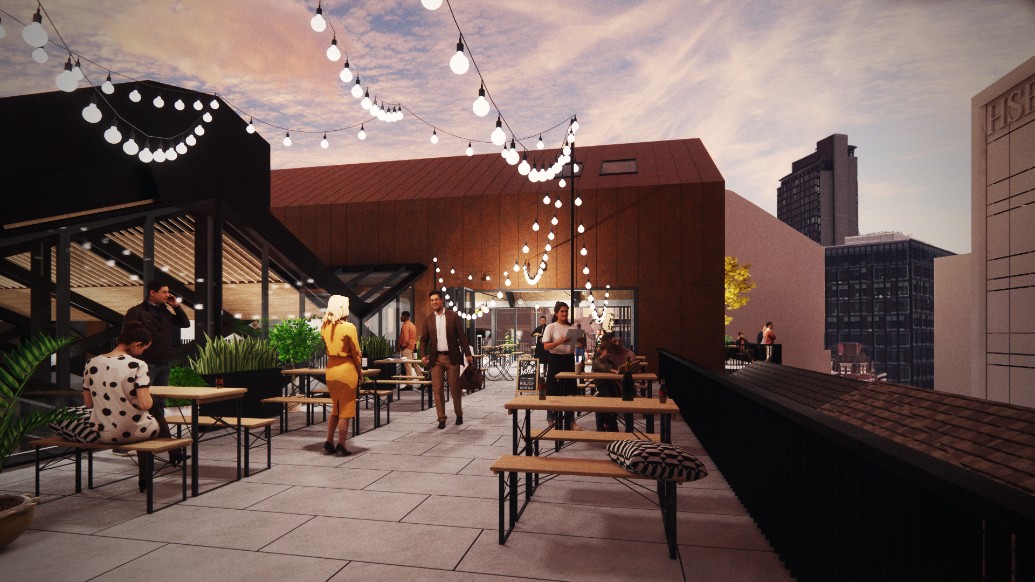 The company behind some of Sheffield's favourite food venues, The Milestone Group, has been chosen to run Cambridge Street Collective, a culturally diverse food destination that forms part of the transformative Heart of the City development programme.
Cambridge Street Collective, which sits behind the recognisable Henry's Corner and Bethel Sunday School on Cambridge Street, will feature a contemporary food hall, cookery school and fine dining experience.
The historic buildings that front the site will be retained and adapted to bring them back into use, with a new contemporary structure behind, contrasting and complementing the older architecture.
The Milestone Group – founded by Matt Bigland and managed with his wife and business partner, Nina Patel Bigland – runs Cutlery Works and The Milestone pub at Kelham Island. The team plan to create a vibrant food hall on the ground floor of Cambridge Street Collective, featuring some of the best independent food and drink companies the city has to offer.
On the second-floor mezzanine, a theatrical cookery school with a seating area for live demonstrations and masterclasses will bring an entirely fresh dynamic to the city's food scene. A broadcast studio to support a YouTube channel is also featured, with plans to showcase the best local pop-up chefs and vendors.
Occupying the venue's top floor will be celebrated Chef Luke French and wife and business partner, Stacey Sherwood-French. The pair are behind award-winning Krynkl restaurant, JÖRO, as well as a steadily growing portfolio of dining ventures in Sheffield and beyond. The highly anticipated restaurant will also boast a rooftop dining terrace and pre-dining rooftop bar.
Further details about the Cambridge Street Collective offer will be announced in the coming months.
Matt Bigland, Founder of Milestone Group, said: "We are excited, humbled and ready to drive this project and the city centre into a new dining era.
"We believe a community is brought together via food and socialising. The food must be authentic, cooked with passion and celebrated by families around a communal table. Cambridge Street Collective is a clear reflection of this and will be open to all communities across the city.
"This is a not simply a food hall but a community hub – a destination of mixed-use spaces, combining everything from live events and cookery classes to culture and co-working – creating something that is unique to Sheffield."
Cambridge Street Collective sits adjacent to Leah's Yard, which also announced a new operator last month and will feature a collection of high-quality local makers and traders, offering everything from furniture and clothes to artisan foods and ales.
Councillor Mazher Iqbal, Cabinet Member for Business and Investment at Sheffield City Council, said: "We are creating something truly special here on Cambridge Street – a cultural and social district with an offer that ranges from quirky local independent shops and eateries to rooftop terraces and fine dining.
"This is Sheffield on a plate and we're thrilled that both Cambridge Street Collective and Leah's Yard will be run by some of our city's most inspirational food & drink and commercial entrepreneurs. This is a destination for Sheffield, by Sheffield."
Andrew Davison, Project Director at Queensberry, added: "Cambridge Street Collective is truly at the Heart of Sheffield City Centre and will be the beating heart of our scheme. We have all missed the social aspect of meeting up with friends and family during lockdown with this concept it will bring people together so they can interact, relax, socialise, experience, chat, eat and drink.  Heart of the City is all about place and people with Cambridge Street Collective embracing all these simple things that we need and want to enjoy in our lives.
"The Milestone Group are an already established and very successful business in Sheffield who continue to expand and we are really excited to work with them and their partners in bringing the best local talent to this space."