Henry Boot Construction completes Sheffield's new 14-storey residential development
Henry Boot Construction this week officially completed work on the impressive Kangaroo Works, Sheffield City Centre's new 14-storey build-to-rent development.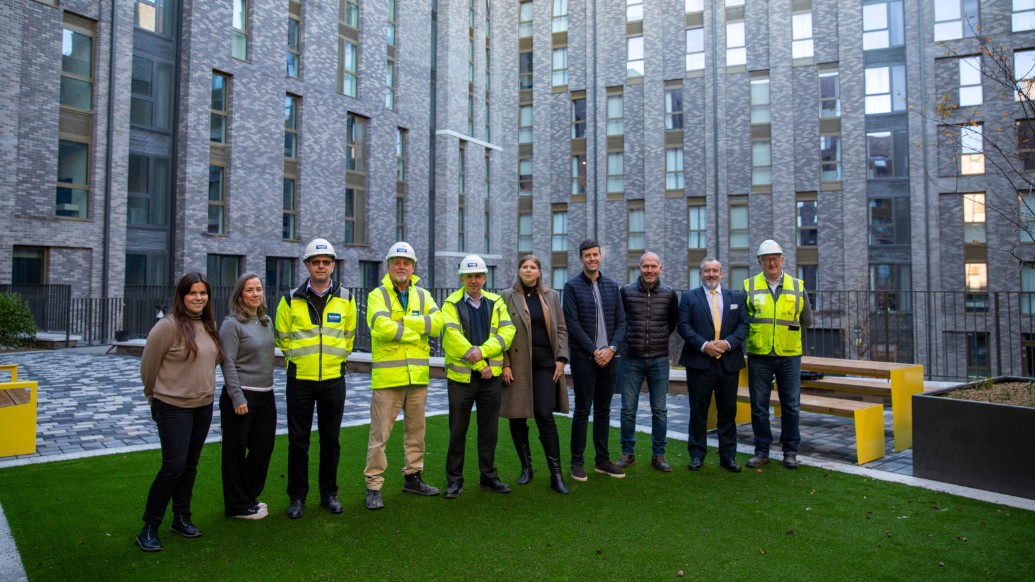 The development on Rockingham Street, which brings 365 high-quality and contemporary homes to the city centre, forms part of Sheffield City Council's Heart of the City masterplan – delivering a significant influx of new residents in the city centre.
Delivered for build-to-rent developer Ridgeback Group and designed by Whittam Cox Architects, the 14-storey block comprises a mix of one, two and three-bedroom apartments, with five commercial units incorporated into the ground floor.
The development's design focuses on traditional brick buildings, reflecting the typology and heritage of the traditional little mesters works seen in the original 'Kangaroo Works' on the same site.
This timeless aesthetic is further complemented by attractive outdoor spaces, including a landscaped central courtyard and rain garden for residents. The development also directly connects to Pound's Park – the major new outdoor public park in the city centre, which was also successfully delivered by Henry Boot Construction.
Tony Shaw, Managing Director for Henry Boot Construction, said:
"We're thrilled to see Kangaroo Works reach completion. It's very rewarding to see people moving in and calling the development home.
"At Henry Boot, we really understand the changing trends of our urban centres and the important role of new homes in creating vibrant and active cities.
"Kangaroo Works is another important piece of the jigsaw and will provide a permanent community to support and complement our other projects in the Heart of the City masterplan, including Pound's Park, the Cambridge Street Collection food hall and net-zero carbon office Elshaw House.
"We are proud to be helping private and public developers, like Ridgeback Group and Sheffield City Council, transform our hometown and provide a sustainable and well-balanced city centre."  
Christopher Allen, Development Director at Ridgeback Group, said:
"It has been a pleasure to work with the Henry Boot team over the past four years to deliver Kangaroo Works. This scheme was Ridgeback's first acquisition and established the high standard for our growing portfolio. The quality of the workmanship has been impressive, and we are grateful to receive such a fantastic looking building."
Ian Lowson, Director at Whittam Cox Architects, added:
"It's incredibly rewarding to witness the final realisation of this scheme. Our approach has been guided by an unwavering commitment to delivering a best-in-class, Build to Rent offering in the heart of one of Yorkshire's great cities, Sheffield."