Sheffield's flagship hotel development gets underway
McLaughlin & Harvey appointed as construction contractor for city centre development
McLaughlin & Harvey, the construction firm that worked on the recent renovation of The Moor, has been appointed on the flagship Radisson Blu hotel development on Pinstone Street – with work on site getting underway this week.
A key element of the Heart of the City programme, which is being delivered by Sheffield City Council and its Strategic Development Partner, Queensberry, the arrival of Radisson Blu in Sheffield will help attract new business opportunities to the city, while raising its profile as a major destination for business and travel.
Serving to enhance Sheffield's social scene, an upmarket rooftop bar and terrace is also planned for the hotel, affording striking views over the Peace Gardens.
"We are excited to see construction work on the Radisson Blu site get underway. We believe that the arrival of Radisson Blu – a brand of real quality and prestige – will be key to the ongoing rejuvenation of our city centre and will support the city to thrive as part of our post-Covid economic recovery."
Councillor Terry Fox, Leader of Sheffield City Council
The front end of the hotel, including ground-level retail and restaurant units, will be housed behind the attractive Victorian façades of Palatine Chambers and City Mews on Pinstone Street. While Barker's Pool House to the rear is to be demolished and replaced with a new adjoining, complementary building, which will feature the majority of the hotel's 154 bedrooms.
The phased demolition for Barker's Pool House is expected to get underway towards the end of June, with the entire programme expected to be compete in summer 2023.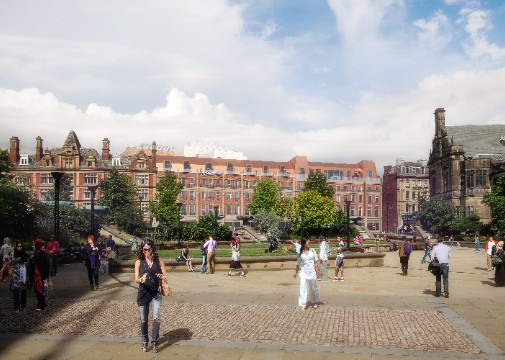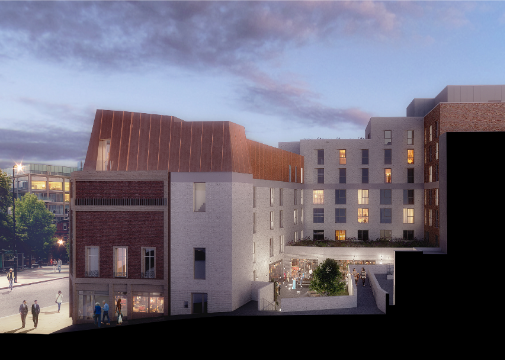 Andrew Davison, Project Director at Queensberry, commented:
"We are very pleased with the appointment of McLaughlin & Harvey and the experience they bring in the construction of hotels. We are also extremely excited to see one the final pieces of Heart of the City get underway and it is a great example of what we are trying to achieve – attracting premium brands and breathing new life into the city of Sheffield."
Gary Bell, Operations Director for McLaughlin & Harvey Ltd, said:
"McLaughlin & Harvey is delighted to have been selected by Sheffield City Council and Queensberry to deliver this next stage of the Heart of the City redevelopment. We bring the experience from our ever-expanding expertise in the leisure sector and look forward to working with our local supply chain."