Sheffield's new city centre park set to open this Easter
Sheffield City Centre's brand-new public space, Pound's Park, is set to open early to the public on 3 April, so that the new park can be enjoyed over the Easter weekend and school holidays.
Named after Sheffield's first Chief Fire Officer, Superintendent John Charles Pound, the park is located on the former fire station site between Rockingham Street, Wellington Street and Carver Street, and will offer a multitude of experiences, including spaces for play, relaxation and socialising.
With families in mind, Pound's Park features a three-by-eight-metre climbing boulder, reminiscent of a Peak District rockface, and a significant new children's playground.
The playground includes two large pyramid towers – with the tallest standing at 11 metres, stainless steel slides, climbing structures, playhouses, a seesaw, wheelchair-accessible play equipment and more.
Although all landscaping elements of the park are now complete and the public will be able to start enjoying the space from early April, some utilities and facilities are due to be completed later in the month – most notably the power and water connectivity that will allow for the new accessible public toilets to open and for the water play features to be turned on – but the Council has made meanwhile arrangements for evening lighting and CCTV.
Once the park is fully complete there will be a dedicated ceremony to formally name the new space Pound's Park. Watch this space for further details of this upcoming event.
Councillor Mazher Iqbal, Co-Chair Transport, Regeneration and Climate Policy Committee, Sheffield City Council, said:
"We're excited to see Pound's Park open early next month, just in time for Spring and Easter holidays. I'm sure families are going to love it.
"This is such an important asset to the city centre and, although there is still some work to be completed over the coming weeks, we are really keen to see Sheffield's community start to benefit from it right away. So, we have made the decision to open it up a little earlier than planned. This does mean the park may need to be temporarily closed again for a short time later in April to complete the outstanding work.
"The Council is investing in truly unique and high-quality public spaces across the city centre, bringing The Outdoor City ethos right into the heart of Sheffield. Pound's Park builds on the success of the Peace Gardens, the Grey-to-Green scheme in Castlegate and the work now beginning on Fargate. We are reinventing what city centres of the future can be.
"Creating these spaces is not only about giving people free and attractive places to enjoy and relax in, it helps reduce vehicle congestion and emissions in the city centre, as well as creating an attractive environment that will see us attract new residents, businesses and retail and leisure brands into the city centre – driving more footfall and helping the city centre thrive for decades to come."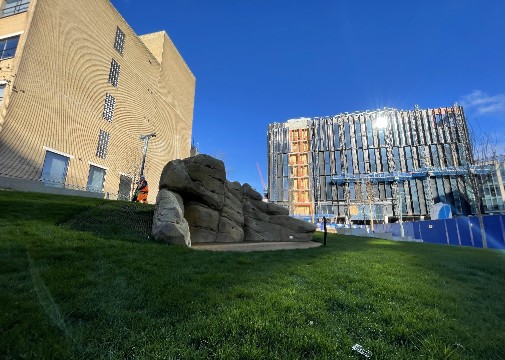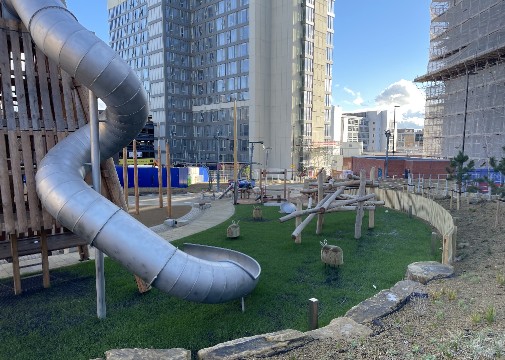 Part of Heart of the City – the £480m regeneration scheme led by Sheffield City Council and their Strategic Development Partner Queensberry, Pound's Park is flanked by a number of evolving Heart of the City construction sites, so its final integration into the surrounding streets is still to be completed later this year.
To the west of the park is Kangaroo Works – a major residential development delivering 364 new apartments. To the east is Elshaw House – the city's first zero carbon-ready office building, and Cambridge Street Collective – a contemporary hospitality space featuring a food hall and rooftop restaurant.
All three of the developments are due to complete this summer and major public realm enhancements to Carver Steet will also take place later this year, helping to seamlessly blend Pound's Park into the rest of the Heart of the City district.
Current public access will be available from Rockingham Street and the north-western corner of the park from Carver Steet.  
Throughout the construction programme, the Council has supported a local supply chain wherever possible. This includes Sheffield-based contractors Henry Boot Construction and playground specialists Timberplay.
Pound's Park is being funded by the South Yorkshire Mayoral Combined Authority through the Government's Getting Building Fund.