Topping out for Heart of the City Pinstone Street developments
The latest phase of Sheffield's Heart of the City scheme celebrated a key construction milestone this week — with the steel topping out on the new mixed-use developments on Pinstone Street.
The steel structure reaching its highest point marks an important moment for Sheffield's flagship redevelopment project, which has been gathering steam in recent months.
The new developments on Pinstone Street are the second phase of the scheme to be constructed. Set to be fully completed in 2021, Isaacs Building will house nearly 40,000 sq ft of Grade A office space.
52 apartments and four characterful townhouses will be situated next to Isaacs Building, incorporating Laycock House and Burgess House. This development will also include Athol House, which will offer a small amount of workspace.
Designed by Leonard Design Architects, both buildings will feature complementary retail and food and beverage units on the ground floor and combine contemporary new architecture with the sympathetically restored Victorian façades on Pinstone Street.
"As this new phase of development tops out on Pinstone Street, we really are beginning to see our new Heart of the City take shape. This milestone marks a significant moment for the scheme as we continue to deliver regeneration of real quality and impact, providing a new range of leisure, retail, residential, office spaces and new public realm."
Councillor Mazher Iqbal, Cabinet Member for Business and Investment at Sheffield City Council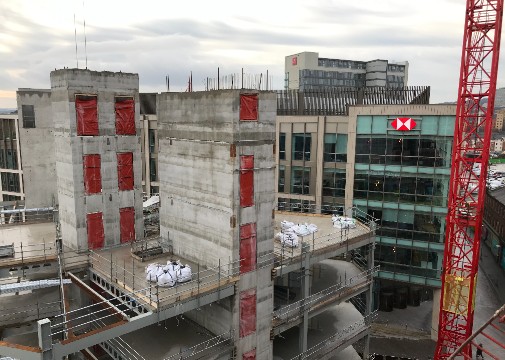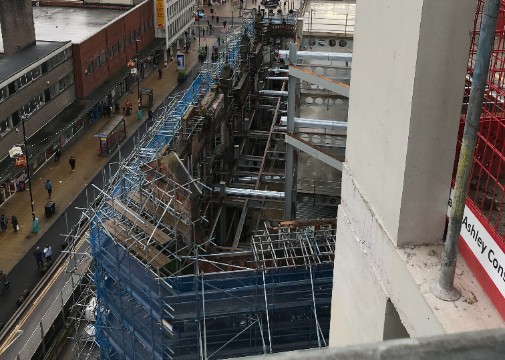 Councillor Julie Dore, Leader of Sheffield City Council, said:
"With the challenges we have all faced this year, it is a fantastic chance to welcome the huge potential for the city centre that Heart of the City brings to the people of Sheffield, our visitors and investors in our local economy. It's important that our city centre develops and adapts to meet the changing needs of the people who live, work and enjoy spending time there. This new combination of quality office space, retail and housing in one of the most popular areas of Sheffield is a great step towards achieving this."
Andrew Davison, Project Director at Queensberry, commented:
"The high-quality residential apartments and Grade A office space featured within this development will be key in attracting people back into the city centre – creating a thriving new hub for everyone to enjoy."
Cliff Wheatley, Managing Director of Galliford Try North East and Yorkshire, said:
"I congratulate the team on their hard work in reaching this significant milestone despite the considerable challenges they have faced this year with the pandemic.
"Heart of the City is a fantastic project for us to be working on, revitalising this part of Sheffield, and we look forward to working with all the stakeholders to finish the job and produce a scheme we can all be proud of."